Builder Information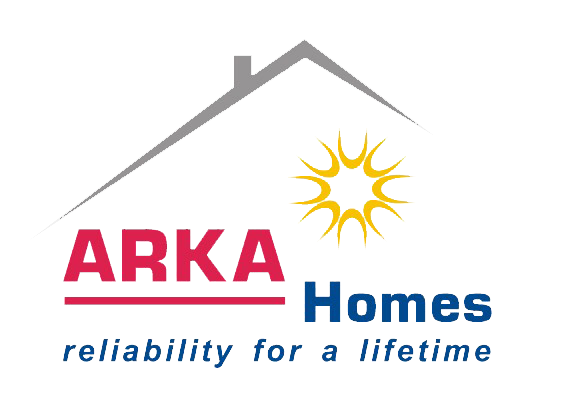 In recent years there is a change in the minds of general populace, about their living condition. "Home of our own"… It is being considered as "the minimum guarantee" which an individual wants to ensure his family. But ever since there is demand, for quality homes, the cost of land and construction has become an impediment to the middle class individual to fulfil their dreams. The gaps always remain between quality, cost and transparency. These missing points fail to bring connectivity to the aspiring house owner from the builder. Arka Homes intends to galvanize these missing points with a new genre of home creations to deliver customer satisfaction. Our projects are strategically planned to raise the value of your home, in future, for the simple money you paid now! We optimize the affordability level of our apartments by way of reduced profit margin. And what more, you are guaranteed about the cost without any fringes. With a team that combines the knowledge of market, engineering and design value it is imperative to say that we will deliver your dreams!
View more
Builder project available with us
Why Buy at Arka Begonia ?
Prime Location
Essential Amenities
Suituated in a Calm Enviroment
Project update: Possession Started Disclaimer Apr 03, 2018
Project Overview
Total Units

2

Project Total Area

0.5 Acres

Project Open Area

20%

Furnishing Type

UnFurnished

Construction Status

Ready to occupy

Ownership Type

Freehold

Gated Community

No

Car Parking

Covered

Bike Parking

Covered

No Of Floors

1

Front Road Width

30 Feet
Approvals

Civic body approval

CMDA
Arka Begonia Photos & Videos
Property description
Arka Begonia is one of the most popular residential developments in the neighborhood of Chennai. It offers well designed 3 BHK Villas. The project is designed with all modern amenities and basic facilities to cater the needs of its residents. 24x7 security is also available.Arka Begonia is designed for the best comforts and utility, with all luxury and style a home must have. It is situated around a posh, peaceful and pollution free surrounding and is built on ethics to last. Arka Begonia concentrates on luxurious living concept and stands tall on ethics and also comes with their unwavering commitment to deliver what they promise, every single time. They pride themselves with an unbeaten track record of delivering ahead of schedule in every project they undertake. They assure you of creating assets for you that stand the test of time. So whether you are an investor seeking opportunities to maximize your returns or a home buyer on your path to create inheritance bestowed with eternal value, Arka Begonia is the place you need to be.
View more
Location Advantages
1.5 Km from Velacherry Tambaram Main Road
4.5 KM from Velacherry MRTS Railway Station
Very close to Colleges and Hospitals
STRUCTURE: RCC Framed Structure, 9" Brickwork for outer walls.
DOORS: Teakwood Frame with Teakwood panel doors for the Main Entrance. First quality country wood frames with Flush Shutters for all internal doors.
WINDOWS: Country wood frames with Glazed pin type shutters.
FLOORING: 24" X 24" Vitrified Tiles and Skirting with same Tiles.
KITCHEN: a. Polished Black Granite 19mm thick for platform over a RCC Slab with edge nosing.
Stainless Steel Sink with drain board with single bowl.
Glazed Tiles for walls up to 4' 0" height above Platform.
BED ROOMS: Bedrooms shall have a space for built in open Wardrobe and open Loft.
BATH ROOMS: Following amenities are provided in each bath rooms :
Antiskid Ceramic Tiles for Floors.
Glazed Tiles for walls up to 7' 0" Height.
European water closet with slim line water tank with Health Faucet for all bathrooms
C.P.Fittings and Shower.
Wash Basin for all bathrooms .
Geyser provision for all Bathrooms.
PAINTINGS: a. Asian Ace / Equivalent Exterior Emulsion for outside walls.
Asian Tractor Emulsion / Equivalent for inside walls.
Enamel paintings for Grills, Doors and Windows.
French polishing for the Main Door.
ELECTRICAL: Concealed wiring using PVC conduits recessed switch boards with Modular Switches, three phase power connection with independent meter.
HALL CUM DINING: a. Light - 2 Nos. b. Tube - 2 Nos.
Fan - 2 Nos. d.Plug Points - 5Ams. – 4 Nos.
Fridge Point – 1 No. f. Telephone Point – 1 No.
T.V. Point - 1 No.
MASTER BEDROOM a. Light - 2 Nos. b. Tube - 1 No.
Fan - 1 No. d.Plug Points - 5Ams.– 2 Nos.
Foot Lamp - 1 No. f. Telephone Point – 1 No.
T.V. Point - 1 No. h. A/C Point – 1 No.
SECOND BEDROOM: a. Light - 2 Nos. b. Fan - 1 No.
c.Plug Points - 5Ams.– 2 Nos. d. Foot Lamp – 1 No.
A/C Point – 1 No.
BATH ROOMS: a. Light - 2 Nos. b. Plug Points - 5Ams. – 1 No.
Geyser Point – 1 No. d. Exhaust fan Point – 1 No.
KITCHEN a. Light - 1 No. b. Tube - 1 Nos.
Exhaust Fan - 1 No. c.Plug Points - 5Ams. – 2 Nos.
- 15 Ams. – 1 No.
SERVICE AREA a. Light - 1 No.
Washing Machine Point – 1 No.
WATER SUPPLY Independent Bore Well, Independent Tank and Sump.
SANITATIONS: All Sanitary waste to be taken through 4" PVC 6 KG pipe to manhole chambers and then to Septic Tank.
OTHERS: All extra work other than given in the standard specification will be done at the extra cost.
View more
Amenities
24*7 Power Backup
Community Hall
Feng Shui / Vastu
Indoor Games
Intercom
Kids Play Area
Lifts
Rain Water Harvesting
Sand Buckets
Security
Sewage treatment plant
Visitors Parking
Walking / Jogging Track
24*7 Power Backup
Feng Shui / Vastu
Intercom
Lifts
Visitors Parking
Indoor Games
Walking / Jogging Track
Rain Water Harvesting
Sewage treatment plant
Project Specifications
Roof Type RCC Framed Structure
Internal Wall Thickness 5
External Wall Thickness 9
Living Room Tile Vitrified
Bedroom Tile Vitrified
Balcony Tile Vitrified
Kitchen Tile Vitrified
Service Area Tile Vitrified
Toilet & Bathrooms Tile Vitrified
Main door teak wood frames
Inner door country wood frames
Windows country wood frames with glazed pin type shutters
Cooking Platform Granite top
Sink Type Stainless Steel
Switches Modular switches
Wiring Concealed Copper wiring
Electrical Connection Three Phase
Internal Wall Paintings Emulsion Paint
External Wall Paintings Emulsion paint
Sanitary Fittings CP fittings
Locality Details
Locality highlights - Pallikaranai
Pallikaranai is one of the fast growing residential areas, located in South . The locality falls under the Metropolitan and is surrounded by Velachery in the North, Medavakkam in the South, Kovilambakkam in the West and Okkiyam Thuraipakkam in the East. It is in close proximity to the IT Corridor , Chennai's central business district and the Automobile hub at the GST road.
The premium residential localities in Pallikaranai include Kamakoti Nagar, Jeyachandran Nagar, New Colony, IIT colony, Sri Ganapathy Nagar, Shanti Nagar, Maxworth Nagar and Rajalakshmi Nagar. This locality is high in demand for residential spaces across South owing to its accessibility and connectivity to other major parts of the city.
Connectivity
Pallikaranai is well connected to other parts of the city via road, rail and public transport. The region is well connected to other major locations via two arterial roads – Main Road and Pallvaram-Thoraipakkam radial road. International Airport is located at a distance of 12.3 Kms from Pallikaranai via Pallavaram-Thuraipakkam Road. Also, the Chrompet Railway Station is situated about 9 kms via Velachery- High Road. The upcoming monorail corridor having Pallikaranai as one of the station is expected to increase the demand of residential properties in this region.
View more
Pallikaranai realestate updates - Last 90 days
News
Pallikaranai is one of the fast growing residential areas, located in South . The locality falls under the Metropolitan and is surrounded by Velachery in the North, Medavakkam in the South, Kovilambakkam in the West and Okkiyam Thuraipakkam in the East