Builder Information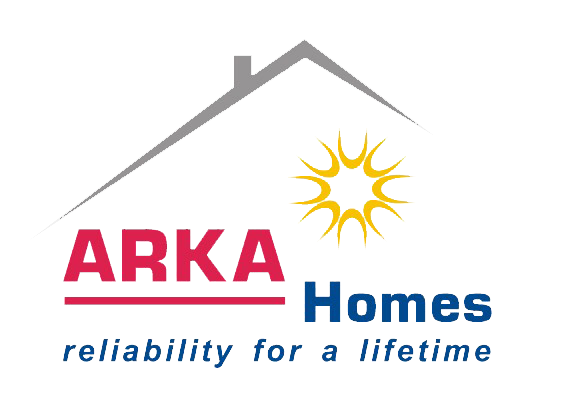 In recent years there is a change in the minds of general populace, about their living condition. "Home of our own"… It is being considered as "the minimum guarantee" which an individual wants to ensure his family. But ever since there is demand, for quality homes, the cost of land and construction has become an impediment to the middle class individual to fulfil their dreams. The gaps always remain between quality, cost and transparency. These missing points fail to bring connectivity to the aspiring house owner from the builder. Arka Homes intends to galvanize these missing points with a new genre of home creations to deliver customer satisfaction. Our projects are strategically planned to raise the value of your home, in future, for the simple money you paid now! We optimize the affordability level of our apartments by way of reduced profit margin. And what more, you are guaranteed about the cost without any fringes. With a team that combines the knowledge of market, engineering and design value it is imperative to say that we will deliver your dreams!
View more
Builder project available with us
Why Buy at Arka Tulip ?
Prime Location
Essential Amenities
Suituated in a Calm Enviroment
Project update: Possession Started Disclaimer Apr 03, 2018
Project Overview
Total Units

6

Project Total Area

0.072979797979798 Acres

Project Open Area

30%

Furnishing Type

UnFurnished

Construction Status

Ready to occupy

Ownership Type

Freehold

Gated Community

No

Car Parking

Covered

Bike Parking

Covered

No Of Floors

2

Front Road Width

30 Feet
Approvals

Civic body approval

CMDA
Arka Tulip Photos & Videos
Property description
We are pleased to announce the launch of our project "ARKA Tulip" situated at Plot No.242(Part), 10thMain Road, Ramnagar South, Off 200 Feet Road, Next to Kamatchi Hospital, Pallikaranai, Chennai – 100. Please find given below brief details of the ARKA Tulip project and we invite you with family and friends to visit our Project.
We will also happy to brief you about the project and we are also organizing site visit based on your convenience.
Arka Tulip is where you will find perfect lifestyle within the confines of your homes. Topped with luxury amenities to get the comforts of high-style living the project is merged with the simplicity and sheer beauty. This magnanimous residential project takes a new take on contemporary living with a hint of modernity attached to it. It is a perfect place where you can live freely and also be a zone where you can enjoy the time like a top class resort. With all the superior aspect the blissful project of Arka Tulip is rightly called as the new age palace for the modern monarchs.
View more
Special Facility
Gated community
Sump, Septic Tank, required capacity will be provided
Sevice Toilet
CCTV Surveillance
Location Advantages
300 metres from 200 Feet Road
3 Km from Velachery MRTS Railway Station
Very close to Colleges and Hospitals
Specifications
STRUCTURE:
RCC Framed Structure, 9? Brickwork for outer walls.
DOORS:
Teakwood Frame with Teakwood panel doors for the Main Entrance. First quality country wood frames with Flush Shutters for all internal doors.
WINDOWS:
Country wood frames with Glazed pin type shutters.
FLOORING:
24? X 24? Vitrified Tiles and Skirting with same Tiles.
KITCHEN:
Polished Black Granite 19mm thick for platform over a RCC Slab with edge nosing.
Stainless Steel Sink with drain board with single bowl.
Glazed Tiles for walls up to 4? 0? height above Platform.
BED ROOMS: Bedrooms shall have a space for built in open Wardrobe and open Loft.
BATH ROOMS: Following amenities are provided in each bath rooms:
Antiskid Ceramic Tiles for Floors.
Glazed Tiles for walls up to 7? 0? Height.
European water closet with slim line water tank with Health Faucet for all bathrooms ? White Colour
C.P. Fittings and Shower.
Wash Basin for all bathrooms ? White.
Geyser provision for all Bathrooms.
PAINTINGS:
Asian Ace/Equivalent Exterior Emulsion for outside walls.
Asian Tractor Emulsion / Equivalent for inside walls.
Enamel paintings for Grills, Doors and Windows.
French polishing for the Main Door.
ELECTRICAL:
Concealed wiring using PVC conduits recessed switch boards with Modular Switches, three phase power connection with independent meter.
HALL CUM DINING:
Light - 2 Nos.
Tube - 2 Nos.
Fan - 2 Nos. d.Plug Points-5Ams.?4 Nos.
Fridge Point ? 1 No. f. Telephone Point ? 1 No.
T.V. Point - 1 No.
MASTER BEDROOM
Light - 2 Nos.
Tube - 1 No.
Fan - 1 No. d.Plug Points-5Ams.?2 Nos.
Foot Lamp - 1 No. f. Telephone Point ? 1 No.
T.V. Point - 1 No. h. A/C Point ? 1 No.
SECOND BEDROOM:
Light - 2 Nos.
Fan - 1 No.
c.Plug Points-5Ams.?2 Nos. d. Foot Lamp ? 1 No.
A/C Point ? 1 No.
BATH ROOMS:
Light - 2 Nos.
Plug Points -5Ams.? 1 No.
Geyser Point ? 1 No. d. Exhaust fan Point? 1 No.
KITCHEN
Light - 1 No. b. Tube - 1 Nos.
Exhaust Fan - 1 No.
c.Plug Points-5Ams.?2 Nos. - 15 Ams. ? 1 No.
SERVICE AREA
Light - 1 No.
Washing Machine Point ? 1 No.
WATER SUPPLY
Common Bore Well, Overhead Tank and Sump
SANITATIONS:
All Sanitary waste to be taken through 4? PVC 6 KG pipe to manhole chambers and then to Septic Tank.
OTHERS:
All extra work other than given in the standard specification will be done at the extra cost.
View more
Amenities
24*7 Power Backup
Intercom
Kids Play Area
Lifts
Rain Water Harvesting
Security
Sewage treatment plant
Swimming pool
Walking / Jogging Track
24*7 Power Backup
Intercom
Lifts
Swimming pool
Walking / Jogging Track
Rain Water Harvesting
Sewage treatment plant
Project Specifications
Roof Type RCC Framed Structure
Living Room Tile Vitrified
Balcony Tile Vitrified
Kitchen Tile Vitrified
Service Area Tile Vitrified
Toilet & Bathrooms Tile Vitrified
Main door Teak Wood
Inner door Teak Wood
Windows UPVC sliding Windows
Sink Type Stainless Steel
Electrical Connection Three Phase
Internal Wall Paintings Emulsion Paint
External Wall Paintings Emulsion paint
Sanitary Fittings Cp Fitting
Locality Details
Locality highlights - Pallikaranai
Located in the south of Chennai, Madipakkam suburb was once a village which has now transformed into a hotspot for real estate development. It is located within close proximity to the Airport and adjacent to the suburbs of Velachery, Nanganallur, Adambakkam, Keelkattalai and a Nagar. Madipakkam is basically a junction where High Road and High Road connect to Velachery.
Madipakkam is also famous for being home to several important landmarks of the city including Badhala Vigneshwaran Temple, pan Temple, Perumal Temple, Bhaira Baba Temple, Nava Shakthi Kamakshi Kovil, Murugan Temple and Meenakshi Sundereshwaran Temple. The proximity of Madipakkam to the airport, railway station and the IT corridor of Velachery and OMR make it an ideal location. It has also become a part of the Corporation equipped with amenities like drinking water, sewage and better infrastructure.
Connectivity
Madipakkam gives easy access to Chennai as well as adjoining areas like Kilkattalai (2.2 km), Velachery (3.7 km), Alandur (5.5 km), Pallavaram (8.4 km), Palavakkam (10.2 km) and is just 15 kilometers from T Nagar and Tambaram. Railway Station is the nearest railway station to Madipakkam. MTC buses starting from the Central Bus Stand also pass through Madipakkam.
View more
Pallikaranai realestate updates - Last 90 days
News
Located in the south of Chennai, Madipakkam suburb was once a village which has now transformed into a hotspot for real estate development