9.90 Crores
EMI starts at

788.48K / Month
Plot Area3300 Sq Feet
Direction FacingEast
Boundary Wall ConstructedYes
Corner PlotsNo
Front Road Width40 Feet
Available Site For Sale Measuring : 33000 Square Feet. Facing : East. Located In Hesaraghatta Road On Hurllichikkanahalli Clear Title Suitable For Commercial Building , and Value Money
Corporation water, Drainage facility
by Cross Real Estate On Nov 16, 2023
Nearby properties for matching your requirements
1,850
EMI starts at

0.01K / Month
Plot Area1200 Sq Feet
Direction FacingNorth
Corner PlotsYes
Don't miss out on this amazing opportunity We have good residential property near yelahanka and hesaragatta.. It's panchayat katha. Price RS.. 1850 per sqft.. De dimension.. 600sqft and 1200 sqft.. More details.. Call.
Drainage facility, CCTV, Rain water harvesting
by Madhu On Nov 10, 2023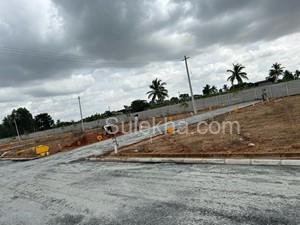 22.20 Lakhs
EMI starts at

17.21K / Month
Plot Area1200 Sq Feet
Direction FacingEast
Boundary Wall ConstructedYes
Corner PlotsYes
Front Road Width30 Feet
*VIRTUE STAR CITY* located in a prime area in North Bangalore between Yelahanka and Rajanakunte. This project is being launched with amazing festive offers. ??*LOCATION HIGHLIGHTS*?? ??? Just within 5 mins distance from Yelahanka RTO ??? Within 15 mins from Yelahanka New Town ??? Shivakote - 2 mins ??? ICTS - 300 Mtrs ??? Singanayakanahalli - 8 mins ??? Ramashree California - 10 mins *AVAILABLE AT AN UNBELIEVABLE PRICE OF Rs. 1850 / sqft* *VILLA PRICES STARTS AT 20 LAKHS* ??PROJECT FEATURES??: ? Panchayat approval ? 9/11 Khatha ?Up to 70% Bank Loan Available ?Ready for Registration DIMENSIONS: * 30?40 = 1200 Sqf?
Drainage facility, Security, Sewage treatment, Rain water harvesting, Plantation Avenue
by Meenakshi On Nov 25, 2023